USCG Coffee Mugs and Mousepads
Tired of buying the same old boring photo mugs most people make? Then try sipping out of a DC Designs Designer Gift Coffee Mug. Made to perfection, and perfect for any occasion. Buy as a gift or just for yourself!
These products are rated microwavable and dishwasher safe by the mug and ink manufacture and is FDA approved. As the decorator of this product though, we do advice that certain household conditions involvingdishwasher heated drying and washing cycles may exist that might damage the image and finish of the mug. Therefore as a general rule for all sublimation mugs from any source, we recommend that hand washing as the best way to keep your mug looking fresh for years to come. Available in 11oz. Simply click on the image/s below for ordering and price information.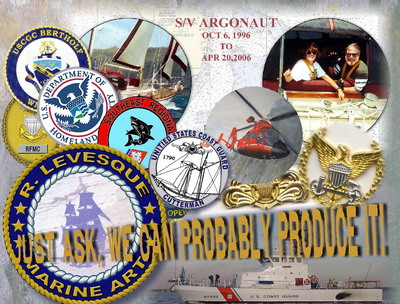 If you would like to see something from your unit...photo...patch...painting, insignia or even a family photo imprinted on any of our products, please drop me a line as I welcome all suggestions and would be happy to work with you.
All image product transfers are manufactured using the finest dye sublimation ingredients for vivid long lasting life.
Click here for further information
New! Coast Guard oriented Photo Mugs now available. click below.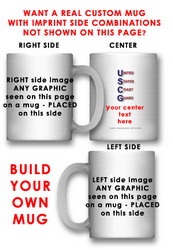 NEW !
This is a new concept that will enable you to build your own mug from scratch. You can add practically anything shown on this page ...and more including specialty marks. There are several marks available at the bottom of this page with more to be added. Simply click on the image above to find out more.
COAST GUARD CALENDAR Mouse Pad

USCGC BEAR WMEC-901

COAST GUARD HH65 HELICOPTER

YOU HAVE TO GO OUT BUT...

FOR DETAIL IMAGE OF YOU HAVE TO GO OUT MUG CLICK HERE. Available with seagulls or with hull number 47257 OR your own hull number!

CHIEF PETTY OFFICER (STATION KEEPER)
Hat Device, circa 1920-1940's

COAST GUARD CHIEF E7

COAST GUARD MASTER CHIEF E9

COAST GUARD W-1

COAST GUARD OFFICER

COAST GUARD OFFICER (AVIATOR)


COAST GUARD ART PROGRAM (COGAP)

SEMPER PARATUS Old & New

ON GUARD

CHIMNEY ROCK WHISTLE BUOY

COAST GUARD SENIOR CHIEF E8

COAST GUARD EMBLEM

COAST GUARD RADIOMAN

COAST GUARD AUXILIARY

COAST GUARD AUXILIARY OPTIONAL PHOTO


COAST GUARD CPO ACADEMY CLASS







COAST GUARD CPO ACADEMY E7, E8, E9


COAST GUARD RESCUE SWIMMER


COAST GUARD DEPLOYABLE OPERATIONS GROUP






SPIRITS OF THE PAST, Surfboat Drill

SEMPER PARATUS Mouse Pad

USCGC IROQUOIS

IN HARMS WAY Mouse Pad

IN HARMS WAY

ALWAYS READY, ALWAYS THERE

Some more items that can be placed on the Build Your Own Mug