"Every child is an artist. The problem is how to remain an artist once he grows up." ~ Pablo Picasso
About Dick Levesque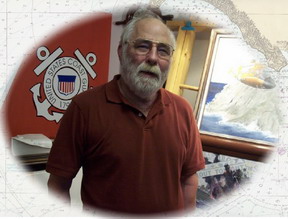 Art Nellen photo
Born in Oakland California and raised in San Francisco, Richard Levesque, or Dick as he prefers, came upon his love of the sea quite naturally. As a young boy he could be found mingling with the Italian fishermen at the Wharf one day, talking to Merchant Seaman on the Embarcadero the next or (his favorite) climbing the rocky cliffs at Lands End.
Dick was educated in the public school system, but continued his love of the sea, learning to sail with the Sea Scouts, making several offshore trips in their forty-two foot schooner Reliance. He soon entered the Coast Guard and retired after an exciting twenty plus years. It was during this time that his talents were rekindled. On a long trip with the Coast Guard to Panama, Dick began drawing cartoons for the ships newspaper and eventually pencil sketches of other ships and shore stations. He had the opportunity to show his work locally, won several awards and was published in military magazines. When Dick retired from the Coast Guard and entered the private sector his days were filled with work and raising a family.
Dick and his wife lived aboard an old 32 foot doubled ended ketch for awhile and then a 35-foot Fantasia sloop for several more years. They both loved the peace and solitude they found at secluded anchorages and it was during this period that he was commissioned and completed two large nautical murals. He has recently retired permanently and is now enjoying his free time renewing his previous passion for art and is again exhibiting. Many of his works are in permanent collections throughout the country.
Dick, and his wife Judy, reside in the country near Puryear, Tennessee where nearly every morning he can be found in his studio creating more of what Dick feels he is meant to do. Although firmly planted inland, they are content being surrounded by nature only a few miles from the massive Kentucky Lake and about a twelve-hour drive to the ocean should he suddenly have the urge to replenish the "salt" in his veins.
Member Paris-Henry County Arts Council, Artist/member Coast Guard Art Program, Vice President of the International Society Of Marine Artists, Member Nautical Research Guild, Member Coast Guard Chief Petty Officers Association.
Click on any image to enlarge
With Port Sonoma CA Yacht Club Mural
Click on any image to enlarge
Membership Affiliations:
| | | |
| --- | --- | --- |
| | | Member |